How to reduce energy costs in your industrial cleaning process
8 June 2023
Industrial cleaning can be very energy intensive. So where should you put your efforts to reduce your energy costs? Find out with these 7 tips.
Reduce energy costs – and keep up
the cleaning standard
Energy efficiency is an important topic in most companies today. Especially because of the soaring costs and the environmental demands.
The overarching problem, though, is that many processes – particularly cleaning – are quite energy intensive and therefore also expensive. So how can you improve the energy efficiency of your cleaning processes and in your production process overall?
Let's go through some easy-to-implement ways to reduce your energy costs.
7 ways to wipe out
wasted energy
Downsizing your energy consumption has a great impact on the environment – and on your bottom line, too. So if you don't already have a plan for your energy savings, it is time for action.
To help you on the way, we have gathered 7 simple tips to reduce energy costs in your cleaning processes – and in your production process overall:

Install automatic lighting
Let's start with one of the easiest ways to save energy in your production facility. That is turning off the lights when no one is in the production area. To do so, you can install an automated lighting system that only turns on the lights when the area is in use. In the light of the soaring energy costs, this makes perfect sense, right?

Use the right cleaner to reduce water consumption
Regular cleaning of your industrial parts and equipment is necessary. And it is even more important that you choose the right industrial detergent for your exact needs. The right cleaner makes it possible to extend the bath lifetime and save water. We recommend that you use water-based cleaning products. Unlike solvent cleaning products, water-based cleaners are formulated to provide the highest level of cleanliness with the lowest possible impact on the environment.

Maintain equipment and prolong its lifespan
Keeping your equipment in optimal condition is important in ensuring that your operation is as  energy efficient as possible. Schedule ongoing maintenance checks on all your equipment. The old and new ones, the ones performing 24/7, and the ones you don't use as often. This will ensure that your production is running efficiently without unnecessary and costly delays and downtimes.

Switch to LED lighting
LED bulbs are the optimal lighting choice for energy savings. And the benefits are clear. They last five to ten times longer and use about a quarter of the energy to produce the same light as halogen bulbs. Sounds great, right? So make sure to switch all bulbs to LED right away.

Lower the water temperature
Switching to the right sustainable industrial detergent makes it possible to lower the water temperature in your baths. With the right cleaner, developed for your set-up, you can lower the water temperature significantly. And this is without compromising on cleanliness. Additionally, you can prolong bath lifetime and cut costs. Plenty of good reasons to reevaluate your cleaning processes.

Power down unused equipment
Powering down your equipment when it is not in use seems to be a no brainer. Yet it can easily be overlooked. Make a habit of walking through your production facility every day to ensure that unused equipment is powered down. It can result in significant savings over time.

Involve your employees 
To make sure all of the above are completed and included in your production and cleaning processes, involve all employees in your ongoing energy optimizations. Let them know how the energy costs affect the bottom line and make sure everyone is always updated on the latest energy-saving initiatives in your production unit.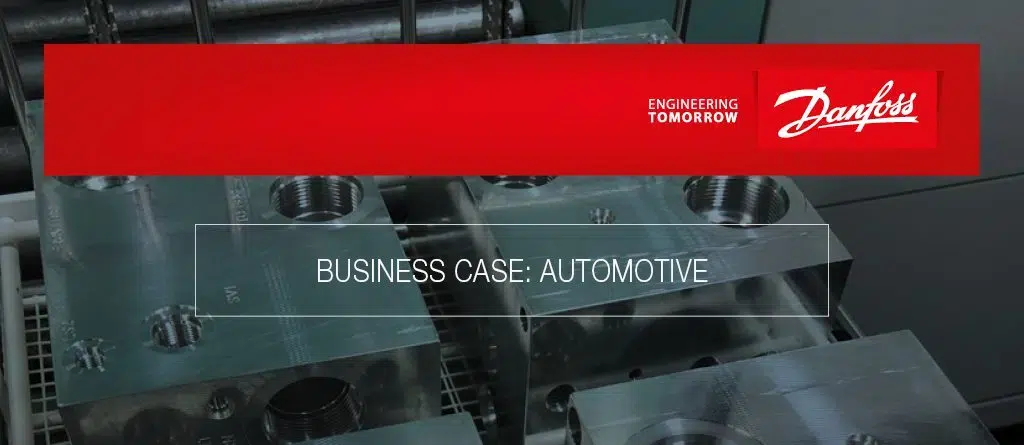 Danfoss achieved energy savings of 50%
Danfoss Easley used many resources, water as well as time, for washing. And this at a temperature of 70°C. In order for the employees to be able to handle the washed components further along in the process, the components had to be placed in a cooling tunnel.
A long process, which had to be repeated every day, this resulted in waste of time and energy – as well as high water consumption and the use of many chemicals.
Using the right pH-neutral metal cleaning products, Danfoss Easley has been able to lower the water temperature to 45°C. And instead of replacing the baths each week – they now replace them just once a month.